>> Reviews of Rosso Caffe capsules
Based in Florida, Rosso Caffe makes Nespresso compatible capsules, their coffee being made with premium beans from Central and South America as well as Africa and Vietnam. Click here to Shop for Rosso Caffe capsules …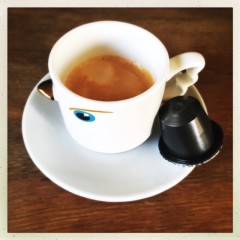 A blend of Arabica beans from Costa Rica and Nicaragua plus Robusta beans from Brazil. Roast: medium Intensity: 6/10 Flavor: fruity Content: 5.5 grams of coffee. Beverages: espresso (1.35 oz), lungo (0.85 oz) Brand: Rosso Caffe System: Nespresso-compatible Price: $0.55 per capsule Get Rosso Caffe capsules here … Nespresso machines on sale OUR REVIEW Rosso Caffe's Crème Brulee capsule is quite difficult to pinpoint. While the...
Read More