ZEBRA COFFEE REVIEWS
Based in New York, Zebra Coffee offers a series of craft espresso blends, including limited-edition coffees and decaf Nespresso compatible capsules.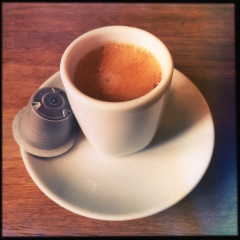 >> Limited Edition 2015 Seasonal coffee from Method Coffee Roasters, a community-focused roaster based in Denver, Colorado. Roast: medium Intensity: n/a Flavor: chocolate, fruity Content: 5 grams of coffee. Beverages: espresso (1.35 oz) Brand: Zebra Coffee Price: $0.80 per capsule OUR REVIEW Zebra Coffee's featured roast Espresso King has a rich creamy body. It is smooth with slightly bitter chocolate tones which reveal...
Read More