>> Reviews of Nespresso compatible capsules
The following capsules are designed to work with Nespresso coffee machines using OriginaLine capsules. You will find here reviews of Nespresso compatible capsules from several brands including Rosso Caffe, HiLine Coffee, Zebra Coffee and more …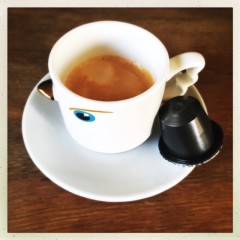 A blend of Arabica beans from Costa Rica and Nicaragua plus Robusta beans from Brazil. Roast: medium Intensity: 6/10 Flavor: fruity Content: 5.5 grams of coffee. Beverages: espresso (1.35 oz), lungo (0.85 oz) Brand: Rosso Caffe System: Nespresso-compatible Price: $0.55 per capsule Get Rosso Caffe capsules here … Nespresso machines on sale OUR REVIEW Rosso Caffe's Crème Brulee capsule is quite difficult to pinpoint. While the...
Read More